"Poornaashrama" - An Archive photo
A pilgrimage to "Poornashrama" – Poojya Swamiji's Gurudev Baba Gangadhara Paramahamsa's abode at Dakshinkhanda village (Murshidabad, West Bengal) – was organized on 4th February 2018. The seed was sown on 10th October 2017, when Poornashrama was registered as part of Narayanashrama Tapovanam Trust at the Registration Office in Kolkata.
The preparations for the pilgrimage started months back, after Poojya Swamiji proposed an Anna-vastra-daana-satram to be held there on his way to Jamshedpur. A few devotees of Poojya Swamiji along with a few volunteers from the village worked very hard to clear up the place, renovate the existing small building hosting Baba's books and other artefacts, making a small kitchen and toilet facilities, arrange for the pandal and feeding on 4th Feb, and organize the daana materials (one blanket, 5 kg rice, and sweets for each family) to be distributed to 2000 poor families from 14 villages.

Poojya Swamiji, Nutan Swamiji and
Maa welcomed by blowing of the
conches and ullu-dhwani
There was a parallel arrangement in Kolkata to receive and host the devotees arriving from all over the world on 2nd and 3rd Feb and make the travel arrangements to Dakshinkhanda and back on 04 Feb.
No wonder that Poojya Swamiji had declared that this pilgrimage was going to be the most important event in his life. About hundred and fifty devotees of Poojya Swamiji from all over the world (Malaysia, California, Washington DC, Texas, London, Australia, Nairobi, Singapore, Jamshedpur, Delhi, Kerala, Kolkata, Chennai, Hyderabad, Mumbai, Bangalore, Pune, etc.) assembled at this remote village, where Poojya Swamiji's Gurudev Baba Gangadhara Paramahamsa underwent rare austerity for years and lived a life of Jnaana-nishthaa.
Although the original thatched hermitage "Poornashrama" (shown above) does not exist anymore, the place is truly the Gomukha, the source of the invisible Jnaana-ganga that has spread its cooling streams all over the world through Poojya Swamiji's Jnaana-yajnas. "Whatever has happened in my spiritual life," Swamiji said repeatedly,"the seed lay here."
Most of the devotees travelled to Dakshinkandha by bus, to and fro on the same day as there was no place for spending the night in the village. Since the event was scheduled to begin at 9am, they set off on the journey through misty roads at 4 am. A smaller party of approximately 20 people had accompanied Poojya Swamiji, Nutan Swamiji and Maa by train the afternoon before to the nearest town called Katwa, to rest for the night before the historic event.
As the moment drew closer to Swamiji's arrival near Poornashram, the air was heady with anticipation and excitement. Devotees and villagers alike lined the roads to receive the Sannyasin disciples of Baba. As they alighted from their vehicles, the festivities were in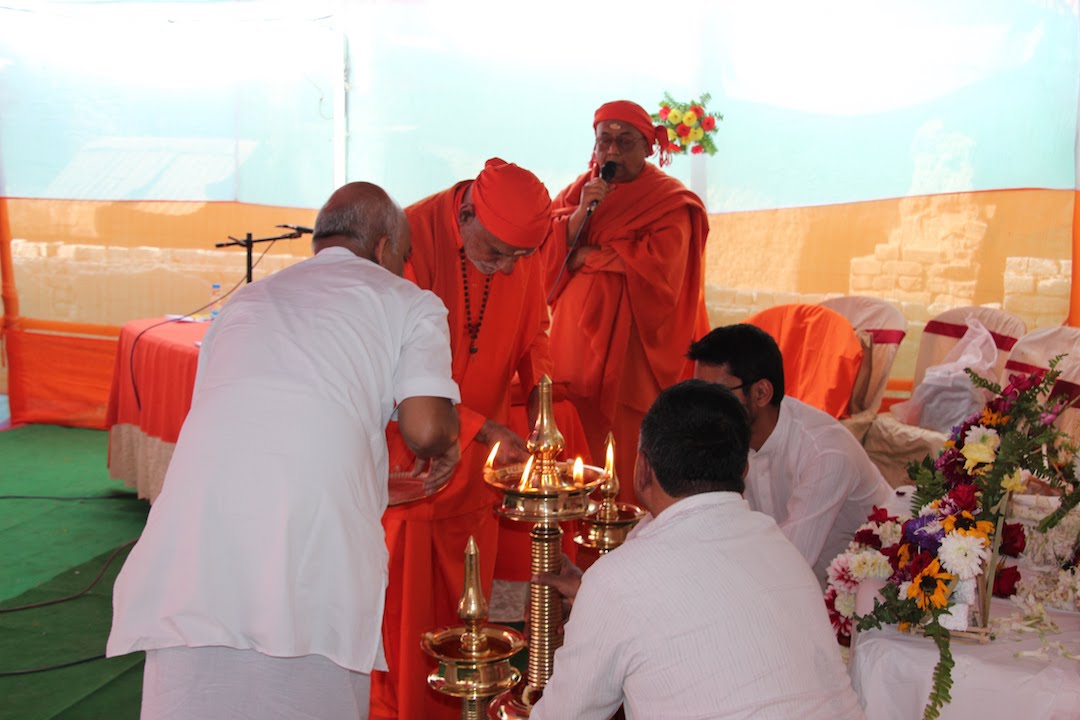 Poojya Swamiji lighting a lamp
full bloom as the village ladies draped in red-bordered off-white Sarees blew conches and greeted them with their charming ulu-dhvani and showers of flower petals all the way down the road into the Pandal. How meaningful must that moment have been for Poojya Swamiji, Nutan Swamiji and Maa – returning after almost 40 years to the village they had visited at a much younger age to seek the company of Baba. The enthusiasm and simplicity of the devotion with which the villagers greeted them brought tears to eyes of many, including Nutan Swamiji and Maa.
What followed was a deeply enriching and insightful programme. Poojya Swamiji first lit the main lamp followed by Nutan Swamiji and Maa the two smaller ones – there were one large and two slightly smaller lamps, reflective of the light of the three of them in our hearts. Poojya Swamiji then garlanded Baba's photo which had been specially printed for the occasion while Maa chanted two special shlokas for Baba which had been composed by Poojya Swamiji himself. The shlokas paid homage to Baba as the Mahapurusha by whose tapasya Dakshinkandha had become sacred, and who is a friend and guide to all who comes near him.
Poojya Swamiji spoke very
lovingly about Baba
Poojya Swamiji then spoke very lovingly about Baba, as being the most unique Knower. Everything in Poojya Swamiji's life from the time he took initiation from Baba had been a result of complete reliance, and a complete disinterest in anything worldly. This was indeed deeply inspiring for all of us. He then brought us back to the single most important event in his life, this one, and made us all feel the bond between Trissur and Dakshinkandha… the roots of Narayanashrama Tapovanam had always been in Poornashrama, just what had previously only been mental was now physical.
Nutan Swamiji and Maa then each had a turn to share their reminiscences of Baba. Both were choked with emotion as they shared the sweetest, most lovely incidences from Baba's life, ingraining in all our hearts the spiritual gigantism of our simple and gentle Master.
Nutan Swamiji and Maa shared their
Reminiscences choked with emotion
Most of the sharing was in Bengali (as it should have been, for it was mainly for the people of Dakshinkanda after all) which many of us devotees didn't know. But it didn't matter the least. Apart from the English translations which were enough to shed light on what was being shared, the more important aspect of it crossed all boundaries of language. The immense devotion, love and fondness that was abundantly clear to all pierced deep into our hearts. We may not have understood the words, but we understood what was being communicated.
The second part of the programme was the Anna Vastra Daana Satram, where 5kg packs of rice, a thick winter blanket, and sweets were distributed to each of the 2000 indigent families selected from 14 villages. It was an endless hive of activity as Poojya Swamiji energetically gave out the items, remaining on his feet for hours.
Nutan Swamiji welcomed the recipients with arati and Maa gave away the sweets during Anna-Vastra daana satram.
The programme ended on an especially divine note: Poojya Swamiji dancing with Keertana and the devotees joyously joining in, revelling in the bliss of being there in the blessed event.
Poojya Swamiji led the devotees in dancing to chant of "Aananda, Aananda"
By the end of the night there were so many words that came up repeatedly in attempt to convey the feelings about this sublime event - blessed, grateful, deeply moved, and humbled. Humbled to see what true bhakti really is – listening to Poojya Swamiji, Nutan Swamiji and Maa speak with such deep and intense, yet soft and loving, devotion about Baba; watching the Guru bhakti driving some of the devotees to do everything beyond expectation and work so tirelessly to make this entire experience so richly fulfilling for everyone, and observing the villagers' simplicity. As we bow our heads in humility, we pray that we may become pure and worthy disciple of our Gurudev, as he is of his.
- Mrinalini Appadurai
Feelings and observations from some devotees
"All of us devotees have heard Poojya Swamiji, Nutan Swamiji and Ma speak about Baba. We have also read 'My beloved Baba' and come to know Baba. In the process, Baba became dear to our hearts. But, through this pilgrimage, a very close and strong connection with Baba has been established in our hearts."
"The most striking observation for me was to see how Poojya Swamiji, Ma and Nutan Swamiji, as disciples of Baba, honoured him by showering compassion and love to the villagers throughout the day at Dakshinkhanda! It was like returning to one's birthplace, to our parents, after many years of separation. Many of us were also emotionally charged by the words pouring out of Baba's Sannyasin disciples with choked voices. Even though I did not know the language, surprisingly I could feel what was being said. My mind was alert, wanting not to miss anything that was happening live in front of me; trying to be a witness, but being touched emotionally now and then."
"Ma's words and the emotion behind them melted the hearts of the listeners. Ma spoke about the brass lamps that had been specially procured for the occasion. Ma narrated how Poojya Swamiji was preoccupied with thoughts of Baba for the past few months: 'Sometimes he would speak about Baba and sometimes he would keep quiet lost in his thoughts. When the three lamps were bought, he showed them to every single person in the Ashram. Telling them about his relationship with Baba, Swamiji sobbed like a little child.' Saying this, Ma's eyes too got filled with tears of love and adoration."
"Ma took many of us upstairs of the small building where some of the things belonging to Baba have been kept. There were a big picture of Baba, a picture of Kshitish Chandra dev, a walking stick and wooden slippers Baba used, and two shelves containing Baba's books. Mind felt blessed to be able to see some of Baba's things. Mind offered prostration again and again at the feet of the Mahatma."
"Throughout my life I have experienced many types of relationships: daughter to my parents, grandchild to my grandparents, sister to my siblings, student to my teachers, friend to my friends, wife to my husband, daughter in-law to my in laws, and also employee-employer relationship. I know the roles, responsibilities, and depth of the emotions in these relationships. But Dakshinkhanda sent me home with the most inspirational experience of this Guru-sishya relationship."
"A small remote village had an individual who touched the heart of so many people all over the world. This has really happened because of our love and devotion for the three disciples of Baba, as well as the jnana that they have spread to us."
"I only wish I had more time before and after the Dakshinkhanda programme with fellow devotees and also to interact with Poojya Swamiji, Ma and Nutan Swamiji so that we could reminisce over what happened and share moments of ecstasy that we had experienced there."
- Devotees of Poojya Swamiji